Business
The visual site builder for custom-built sites
Stuck with WordPress, Webflow, etc.? Make your marketers independent with a tech stack your developers can fully control, customize and scale.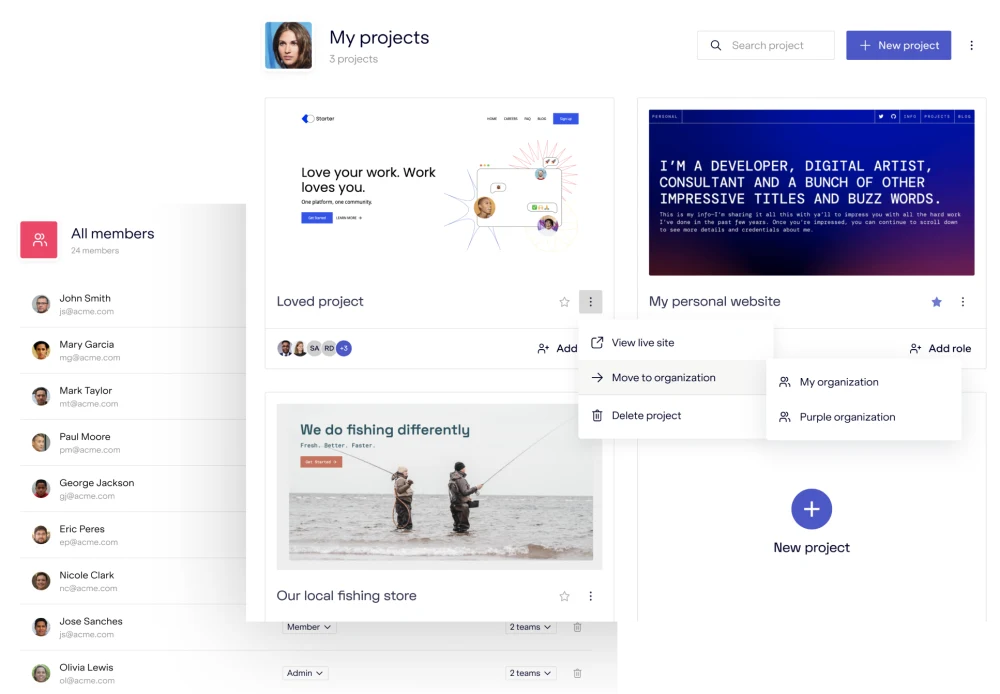 Here's what we're hearing from Stackbit Business customers
"We need a visual site builder for our custom-developed website."
"We need marketing to be able to publish articles without getting a developer involved."
"We need tools in Marketing's tool belt to build pages while developers maintain granular control of the website's code."
"We need marketing to create pages, drop in a new component, tweak content quickly... without getting a developer involved."
Web development at scale
"It takes me 10 times less than usual to create a page now that we use Stackbit — it's a game-changer. Basically, anyone who is using Contentful and has a design system should be using it."
Visually Unlimited
Our world-class visual editing experience is fast, intuitive, and powerful. WYSIWYG in-place editing, reusable components, layouts, variations, styling, media, and more. Everything you've come to expect from a modern visual site builder.
Remove marketer-developer dependency
Easy-to-use website building tools let marketing teams create pages, drop-in components, adjust layout and styles, and tweak content quickly, without getting a developer involved.
'Building a website in 2023'
Headless CMS support
Build and edit websites with structured content from Contentful, Sanity, etc. Instantly provision CMS-backed sites.
Extensible component library
Use Stackbit components, modify them or bring your own. Visually edit new component versions and reuse across sites.
Customize publishing workflows
Integrate with your workflow - Customize publishing actions (merge to branch, PR) and land changes in your desired branch.
Built by developers, for developers
Code with no restrictions or lock-ins, locally or in our integrated code editor. Easy access to extensive documentation and dedicated support.
Collaboration, roles & permissions
Support for i18n at the field level, fully integrates with Contentful, Sanity, and git-based content storage. Translators work in-context, easily compare between languages and ensure translation completeness.
Industry-leading expert support
Tap into advice and guidance from the people who work daily to define industry best practices for architecting and implementing modern, fast, secure digital experiences.



Need help?




Talk to an expert.
Share your contact info here, and book time with a member of the Stackbit team.